'A Bunch of Amateurs' competition

This competition closed on Wednesday 31st May 2023.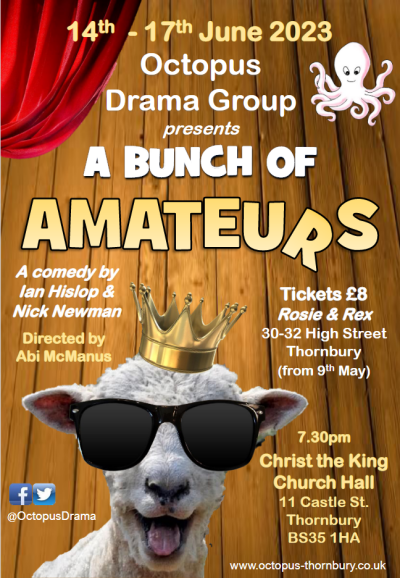 Fading Hollywood star Jefferson Steele arrives in England to play King Lear in Stratford - only to discover this is not the birthplace of the Bard but a sleepy West Country town!
Find out what happens with free tickets to Octopus Drama Group's performance of 'A Bunch of Amateurs'.
For your chance to win two tickets for the opening night on Wednesday June 14th at 7.30pm at Christ the King Church Hall, simply send us your details using the form below.
Octopus Drama Group has been performing in CTK Church Hall for over 50 years and would love you to join them for this latest production, running Wednesday June 14th – Saturday June 17th.
Written by Ian Hislop and Nick Newman and directed by Abi McManus, it will have you rolling in the aisles!
Click here for more information about the performance, and if you're not the lucky winner this time, you can still buy tickets at £8 (adults only) from the Rosie and Rex Gift Shop on Thornbury High Street - available from May 9th.



Sorry; we are no longer accepting entries for this competition.